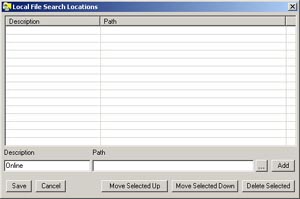 You can include one or more folders of files on your hard drive as locations that should be indexed and included in the searches.
Use Add/Edit locations on the File menu to specify the locations of the files on your hard drive that you want to include in your searches.
To add a location type a descriptive name for the location in the description box. (ex. Music Files)
Note: Each description must be unique! (ex. You can't have two Music Files descriptions)
Click the ... button to locate the folder with the files you want to include.
Click the Add button.
Click Save when you are done adding locations.
You will be prompted to ask if you want to rescan the online file locations. Click yes if you have added any new locations, or no if you only changed the order of the locations or deleted locations.