List Maker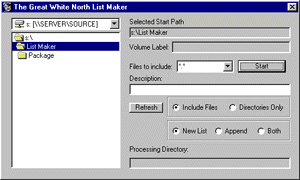 This program will allow file and/or folder lists to be created and saved in text files.
Create catalogue lists of your Floppies, CDs, or folders on your hard drive.
These text files can be searched or printed with Notepad, WordPad, or other word-processing software.
There is now a List Search program available that has been specifically designed to quickly search the list file made by this program.
Download List Maker Version 1.2.16 (3Mb)
After downloading, Double-Click on the downloaded file 'ListMaker1x.exe' to start the installation.
This download is a fully functional program.
The Version 1.2.16 Update includes:
Improved formatting of CSV output.
Improved error handling and status display.
Increased maximum number of folders that can be processed.
The Version 1.1.15 Update includes:
Several additional output format options such as CSV for import to spreadsheet or database software, and HTML for viewing in a web browser or for inclusion on a web page.
Requested changes to improve the usability
Minor bug fixes
System Requirements
Windows 95, 98, ME, NT4.0, 2000, XP, Vista and Windows 7
3Mb Free disk space.
---
Contact: Rick Macmurchie
E-mail: rmac@novatone.net
Phone: 1(250)658-6319
1000 Fenn Avenue, Victoria B.C. Canada V8Y 1P3
Back to the Great White North Software Page