List Search Utility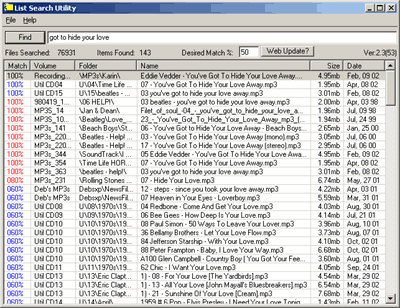 This program will index folders you select and let you very quickly find files in any of the indexed folders.
It will also allow you to search lists of files (on CD etc.) created with List Maker so that you can search for files that are on your hard drive and archived files with a single search..
This program is particularly useful when you are searching for a file where you only know part of the title, or when there may be variations in spelling. Type all the words you think are in the file title and all the files with those words in the title will be listed, files that have most but not all the words are also displayed if they match the configurable 'Desired Match' percentage number of words.
For more information about how the program works, view the help file.
For information specific to the current release, view the release notes.
Download List Search Version 2.5.64 (5Mb)
After downloading, Double-Click on the downloaded file 'Listsearchsetup.exe' to start the installation.
This download is a fully functional program.
Donate to support List Search: Not required, but if you find it useful, encourage me to continue developing.
System Requirements
Windows 95, 98, ME, NT4.0, 2000, XP, Vista, or Windows 7
20Mb Free disk space.
---
Customized versions of this program are available for licensing if you want to distribute a search / viewer application with a collection of files you are marketing. One customized version being distributed as the Armorial Gold Viewer includes an image file browser in addition to the search function (Screen Shots). Rates for customized versions are very reasonable.
Contact: Rick Macmurchie
E-mail: rmac@novatone.net
Phone: 1(250)658-6319
1000 Fenn Avenue, Victoria B.C. Canada V8Y 1P3